AUG A MOUTH-WATERING AFFAIR: TASTING HIDA & KOBE BEEF TEPPANYAKI IN TOKYO, JAPAN
Top 3 F.A.Q. About Kobe Beef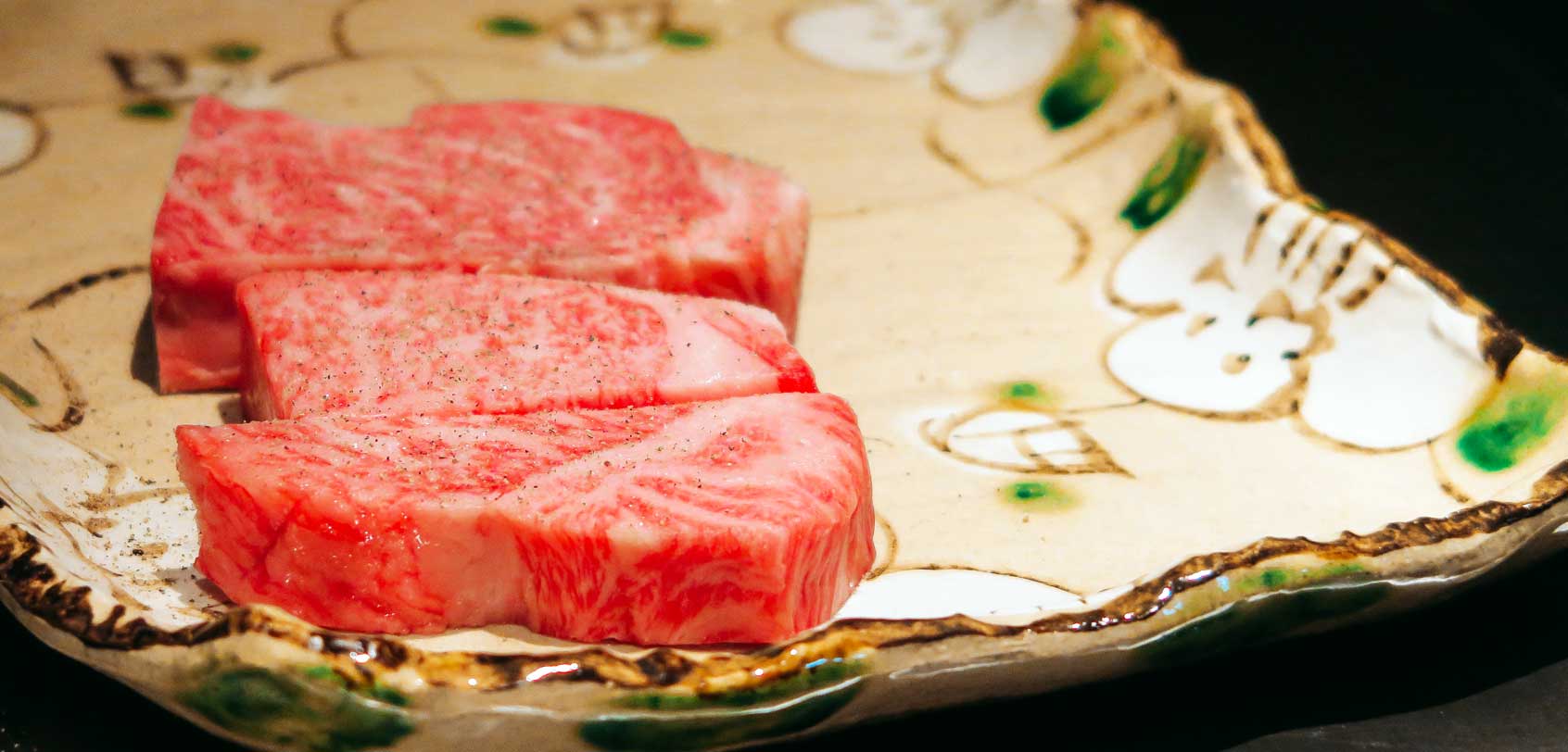 1.
What exactly is Kobe beef? And why is it expensive?
Kobe beef comes from a PURE lineage of Tajuma-gyu cattle that has been born in the Hyogo prefecture in Japan and has been certified by the Kobe Beef Distribution & Promotion Council. Also, for it to be called 'Kobe', it still has to go through a strict government grading exam via the Japan Meat Grading Association wherein once assed, it will carry a 10-digit identification number. (Truth be told, the criteria for beef to be certified as Kobe beef are the strictest in Japan!)
These Tajima-gyu cows which are also called as "motoushi" or purebred seedstock cattle have maintained a pure bloodline since the Edo period (1615 to 1867) which also means that its delicious taste has been protected — hence, this is one of the reasons why it is expensive. Other factors that contribute to the Kobe beef's high price tag is its scarcity and the high-quality feed that is being fed to the cows.
TRIVIA: "Wagyu" means 'Japanese Cattle' so it is a generic term that refers to ALL of Japan's cattle breeds. It is further divided into 4 breeds: Japanese Black, Japanese Brown, Japanese Poll, and Japanese Shorthorn. Tajima-gyu from which Kobe beef comes from is classified under Japanese Black breed.
Meanwhile, if you've heard of the term kokusan-gyu, this refers to all cows that are raised within Japan, in which it has spent more than half of its life there.
2.
How then can I know that I'm eating real Kobe beef?
First and foremost, if you're planning to dine at a restaurant, you can check by the official list on the Kobe Beef Distribution & Promotion Councilto check which are the authorized establishments that have been granted the right to serve it.
Another good indicator is the price wherein an ounce should cost around $55 (or Php 2,500+). So if you're ordering a burger that's said to have Kobe beef on it and it costs only around $10, then you should be wary since they're just evidently slapping the term 'Kobe' on a Japanese kind of beef that they got their hands on.
Meanwhile, if you're planning to buy retail or wholesale, the website also shows the authorized distributors. Once you're there, feel free to ask for a proof of certification as well to ensure that you've got your money's worth.
3.
Is it true that for Kobe beef cows' rearing methods, they are made to listen to music, are being given beer, and massaged?

To answer this question, the Kobe Beef Distribution & Promotion Council said that…
There may well be some farms rearing low numbers of cattle who are doing things bordering on this. But, this does not mean that these rearing methods are all standards for producing prime Kobe Beef. For example, if you make it a custom of playing music at feeding time, then the cows as a conditioned reflex know that it's feeding time just by hearing the music, and this, it is said, increases their appetite. However, the affect of music improving meat quality has not yet been proved. There is also the theory that beer is useful in improving cows' appetites. Actually, however, it can be said that there have been almost no cases of cows being raised on beer. And, massage, too, is considered to be useful in lowering cows' stress because of the close, physical contact it provides and in indirectly helping to improve the quality of the meat. Once again, however, massage itself neither softens meat nor increases the amount of marbling.
Now let's move on to my actual mouth-watering affair at a teppanyaki restaurant!
First and foremost: I know that I could have just gone to any Japanese steakhouse to get my dose of wagyu beef; however, I wanted to undergo the experience of such a special cooking style. Besides, it is said that a high-quality teppan and skilled chef can make a HUGE difference to the flavor of a steak — so, if you combine those features with an ever-so-tasty Japanese beef then I was sure I'll be in for a treat.
They offer selections from their à la carte but you can also opt for a set menu. Since I was in Japan during sakura (cherry blossom) season, they naturally had a 'Sakura' set and that was what I was given for dinner. The total cost for it was 20,000 yen or $198~ (Php 9,200~) — a substantial price but I kid you not: it was all SO worth it.
Let me tell you why!
Yamanami is led by the distinguished Master Chef Juniichi Hirano and the restaurant's interiors have a unique design that mixes elements from the west and the east. Their western counters presents a superb view of the city's skyscrapers, while the eastern counter faces a Japanese style roof garden.
I was ushered to my seat at the western counters by a waitress dressed in traditional kimono, after whichI was introduced to my chef for the day. (Apparently, every customer here gets their own designated chef for a more personalized experience with a maximum of 4 people for every 1 chef.)
He started to show me the fresh ingredients that he will be using… and when I laid my eyes on the beautifully marbled* pink slabs of Hida beef and Kobe beef, I instantly felt giddy and excited!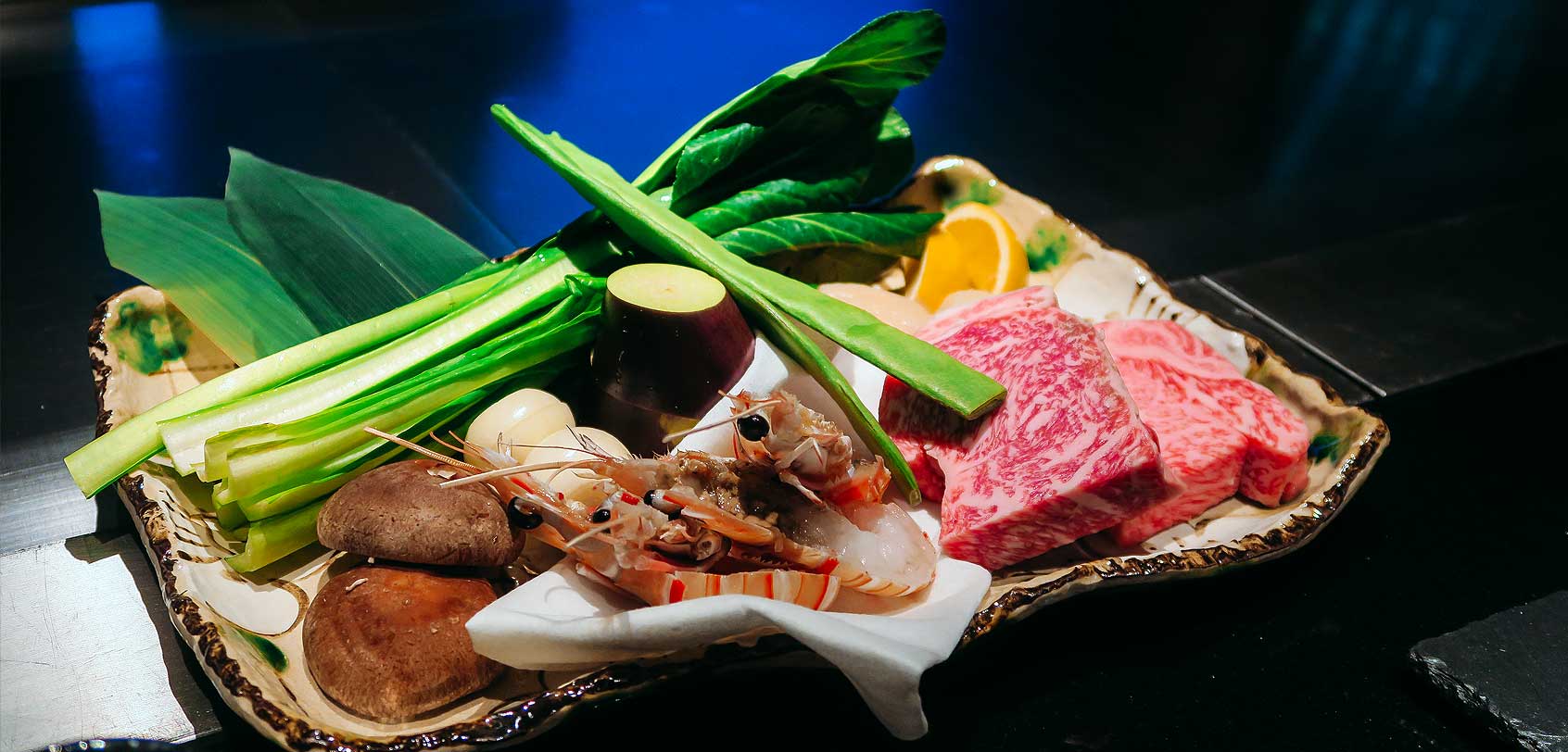 *Marbled meat contains various amounts of fat, giving it an appearance that's akin to a marble pattern. Marbling can be influenced by selective breeding and the type of feed that is being fed to the cattle.
TRIVIA: Hida beef is a first-class (wagyu) Japanese beef brand raised in Gifu Prefecture that rivals Kobe beef, and has meat quality that is classified with the A/B rank and the 5/4/3 grade — this basically means that it's damn good.
*Hida beef, Kobe beef, and Matsuzaka beef are arguably the most famous beef types from Japan.
But before that 'fun' starts, first: the appetizers. I was given a fruity soft cake and a dish of greens to start with.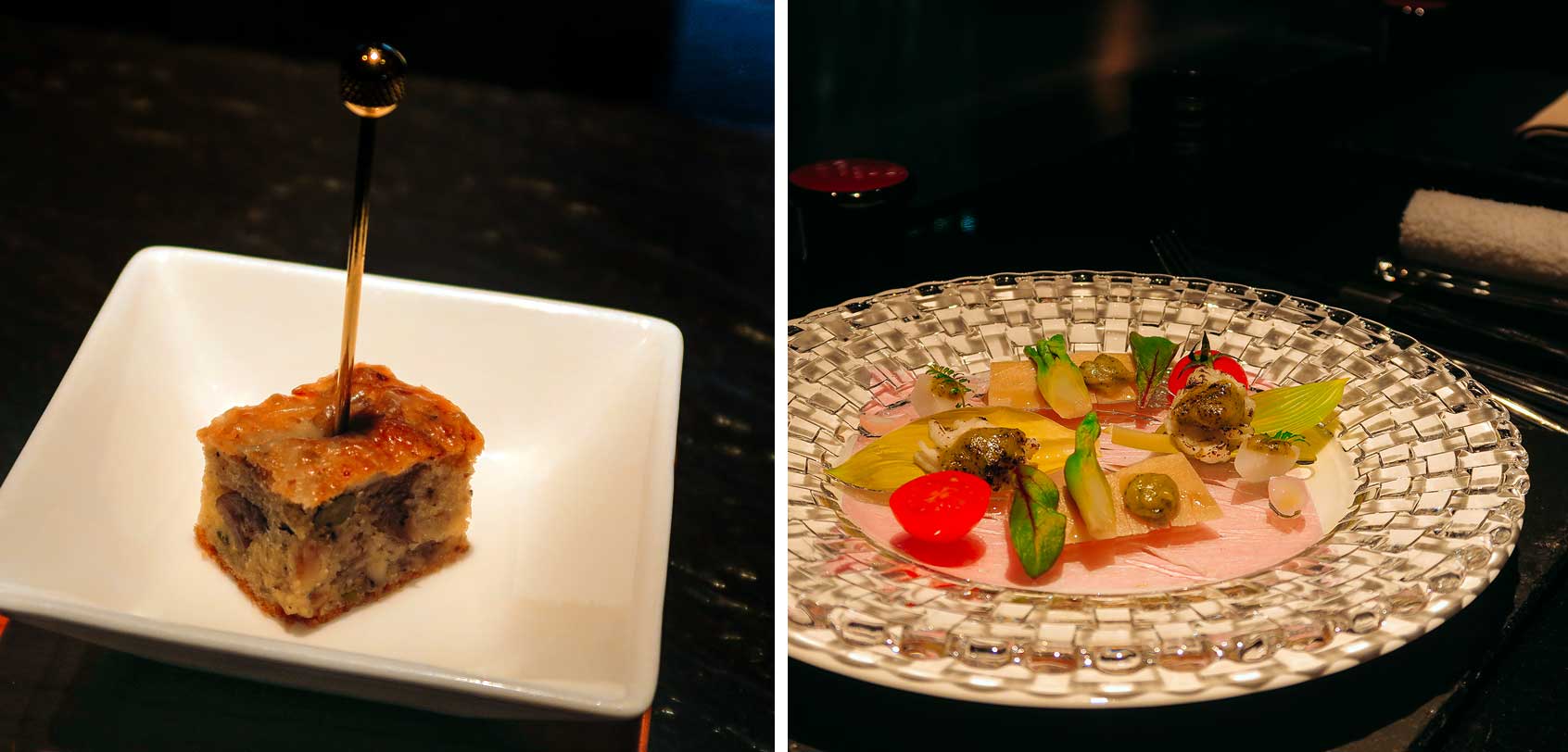 While I was gobbling that up, the chef started to cook the seafood (prawns and abalone) right before my very eyes and it was then that I realized how skillful he was as he maneuvered the food with his tools in precise and swift movements.
He even made sure that a long metal tool was positioned before the food in order to avoid the oil from splattering over to my side. Additionally, I noticed that the iron griddle was spotless! They seem to absolutely ensure it remains in tip-top shape, which is so unlike other teppanyaki restaurants that I've seen on videos that typically have burnt surfaces!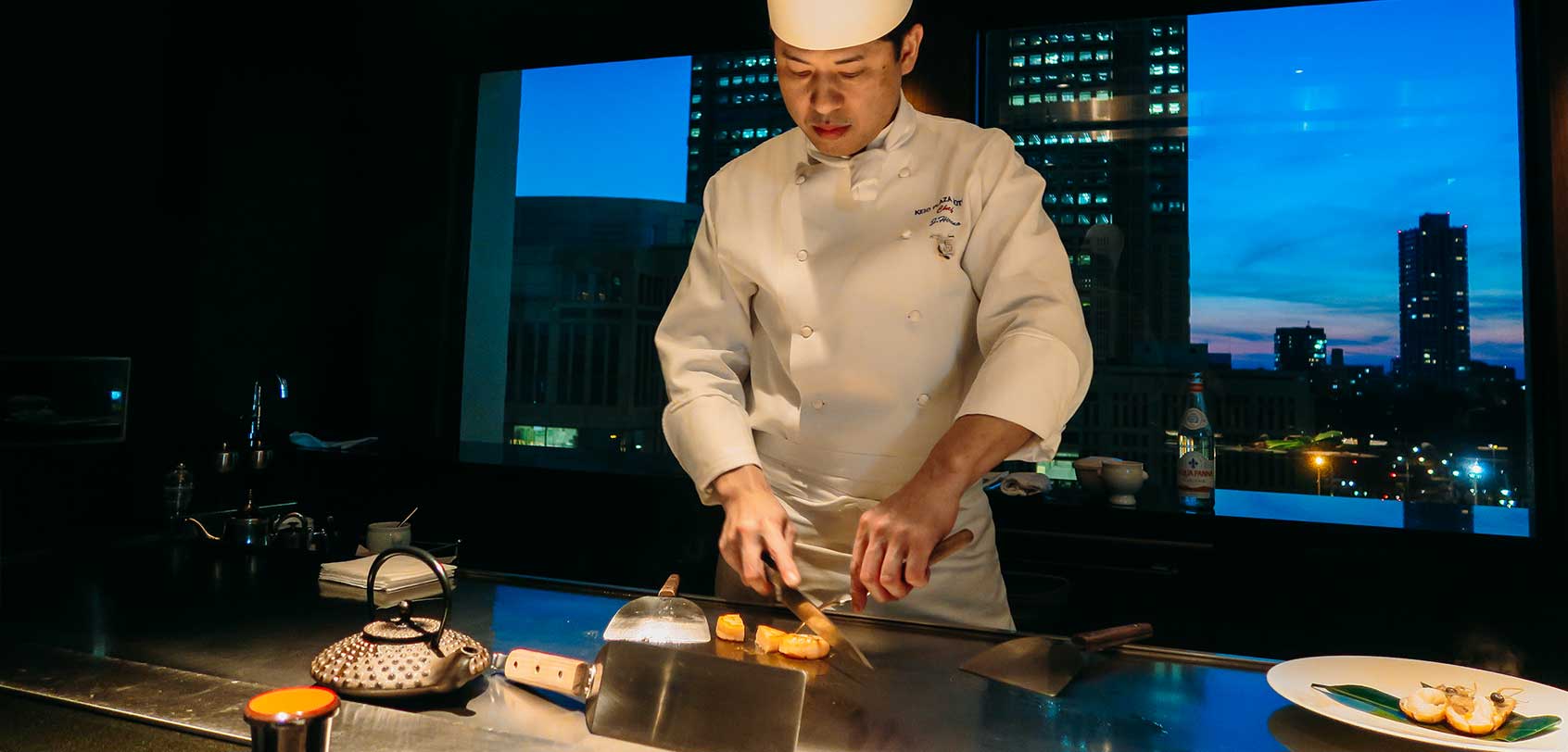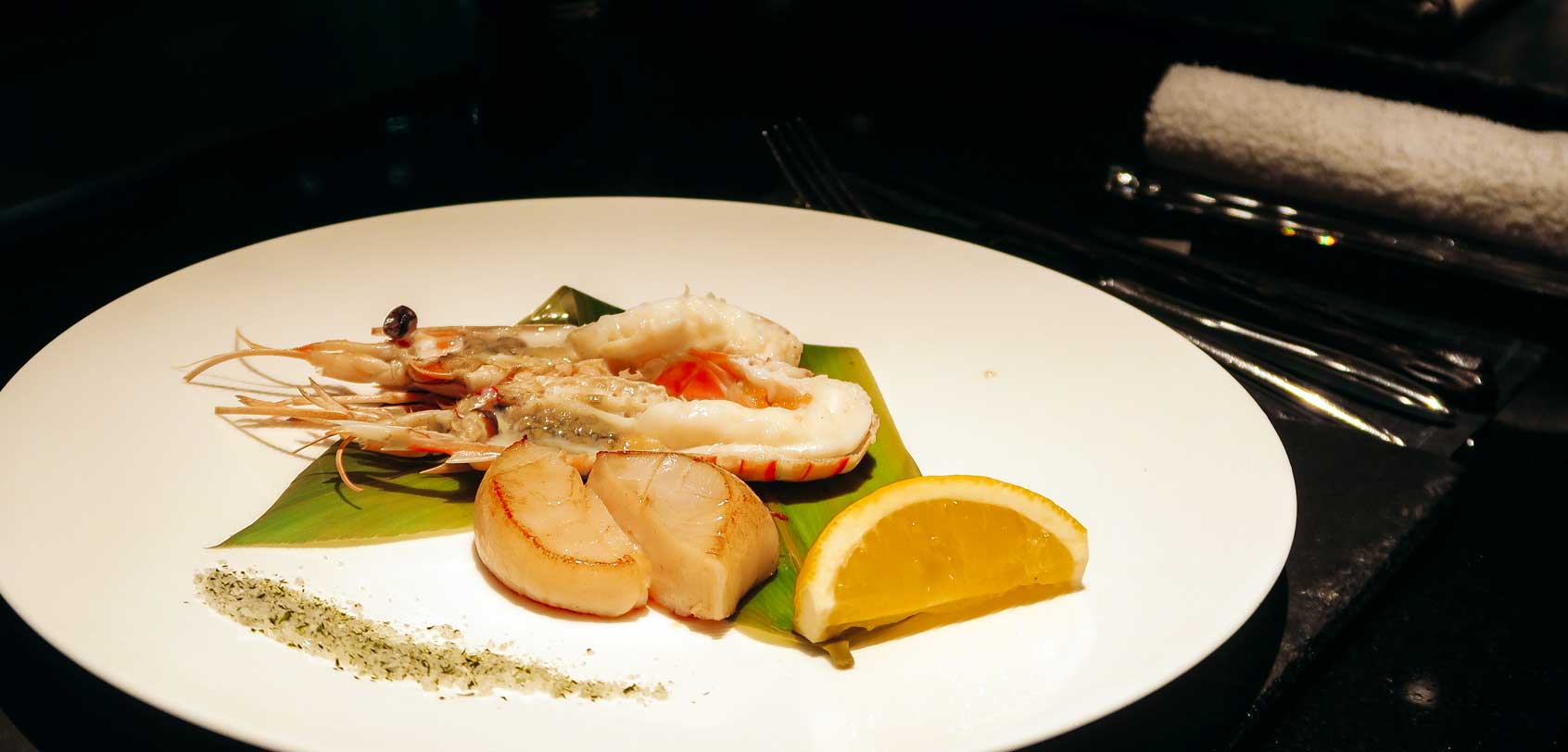 On to the grilled vegetables, I had some greens, mushrooms, beans, eggplant slices, and onions. These were paired with 2 sets of sauces and some salt. This, partnered with the seafood, were perfectly cooked — surely a wonderful prelude to the upcoming highlight of the whole teppanyaki set!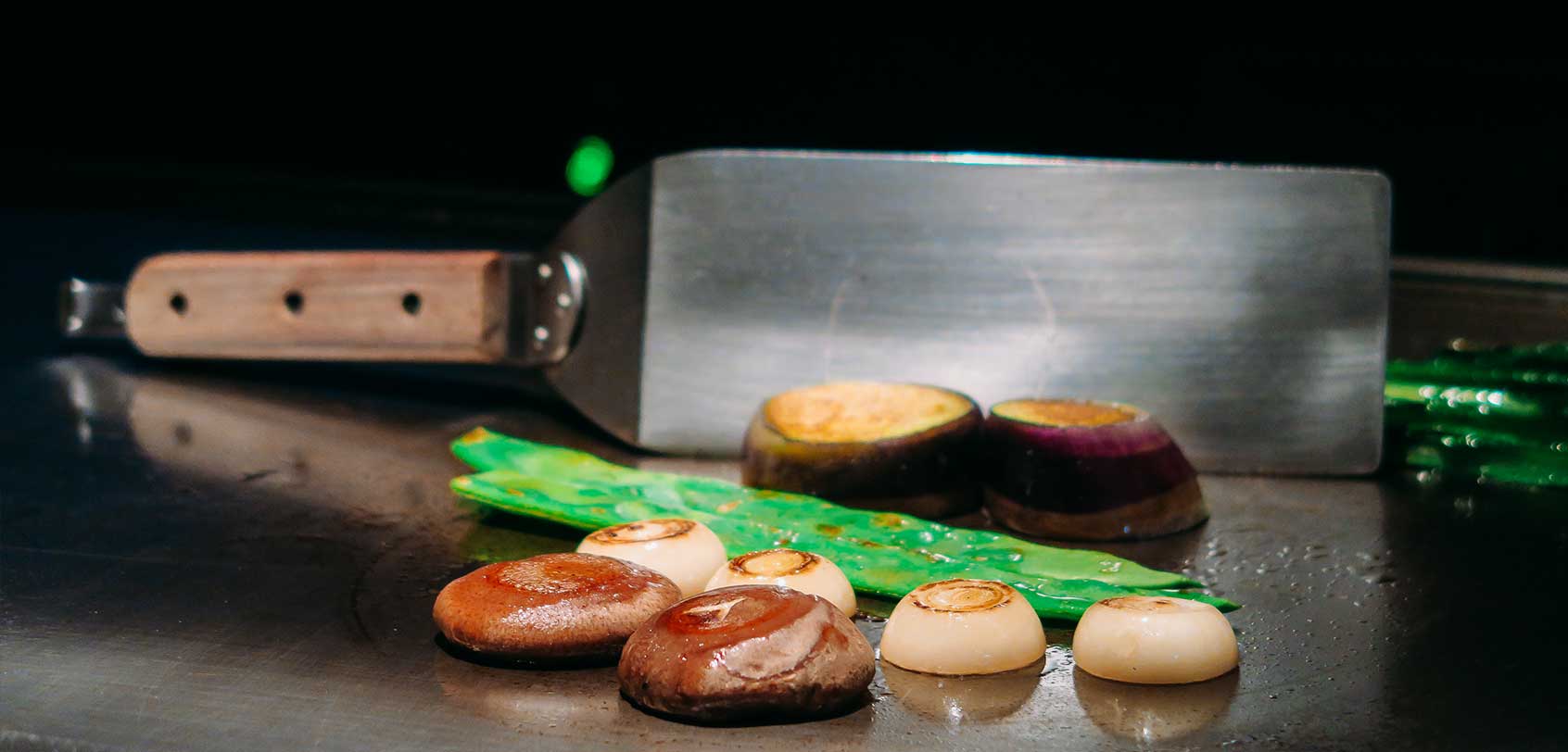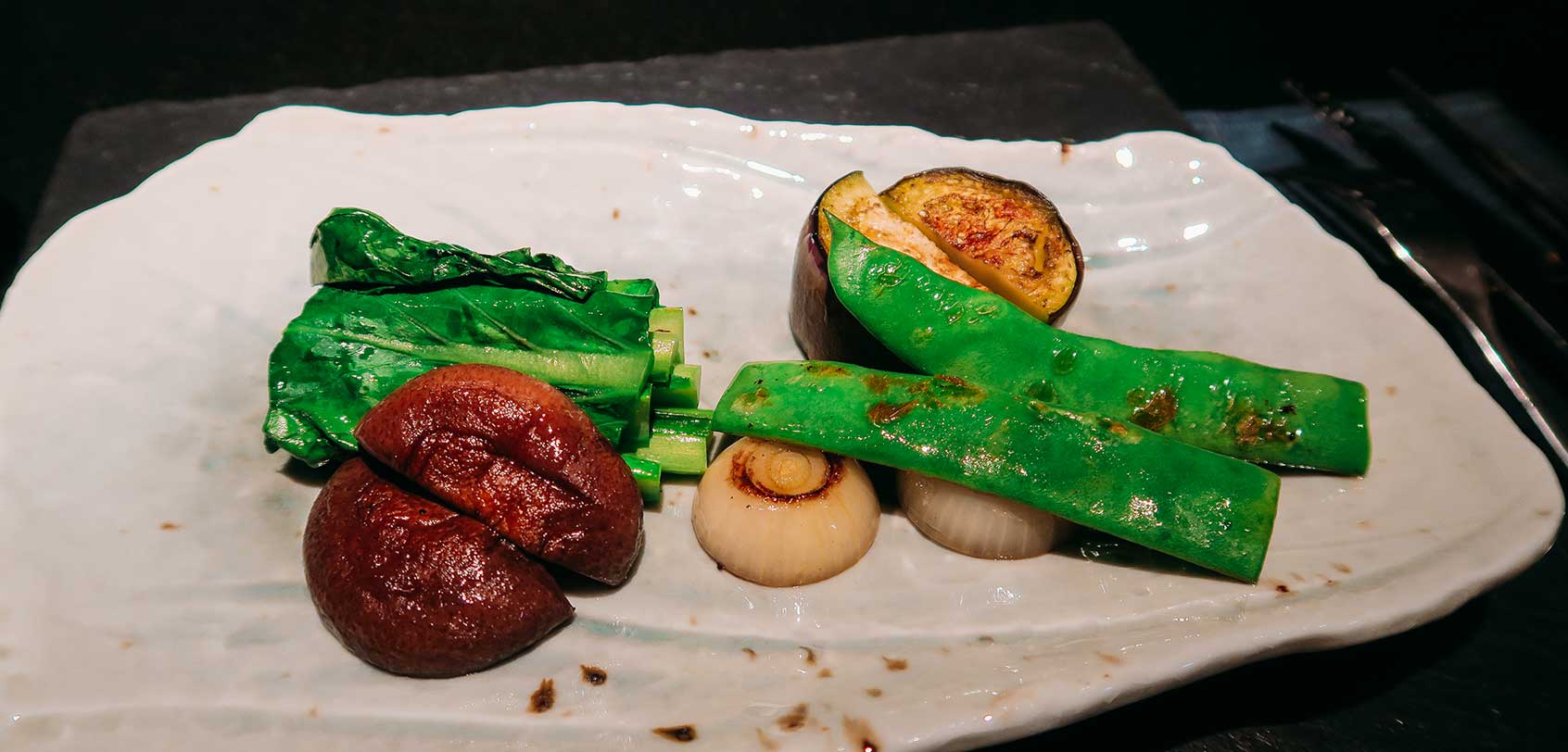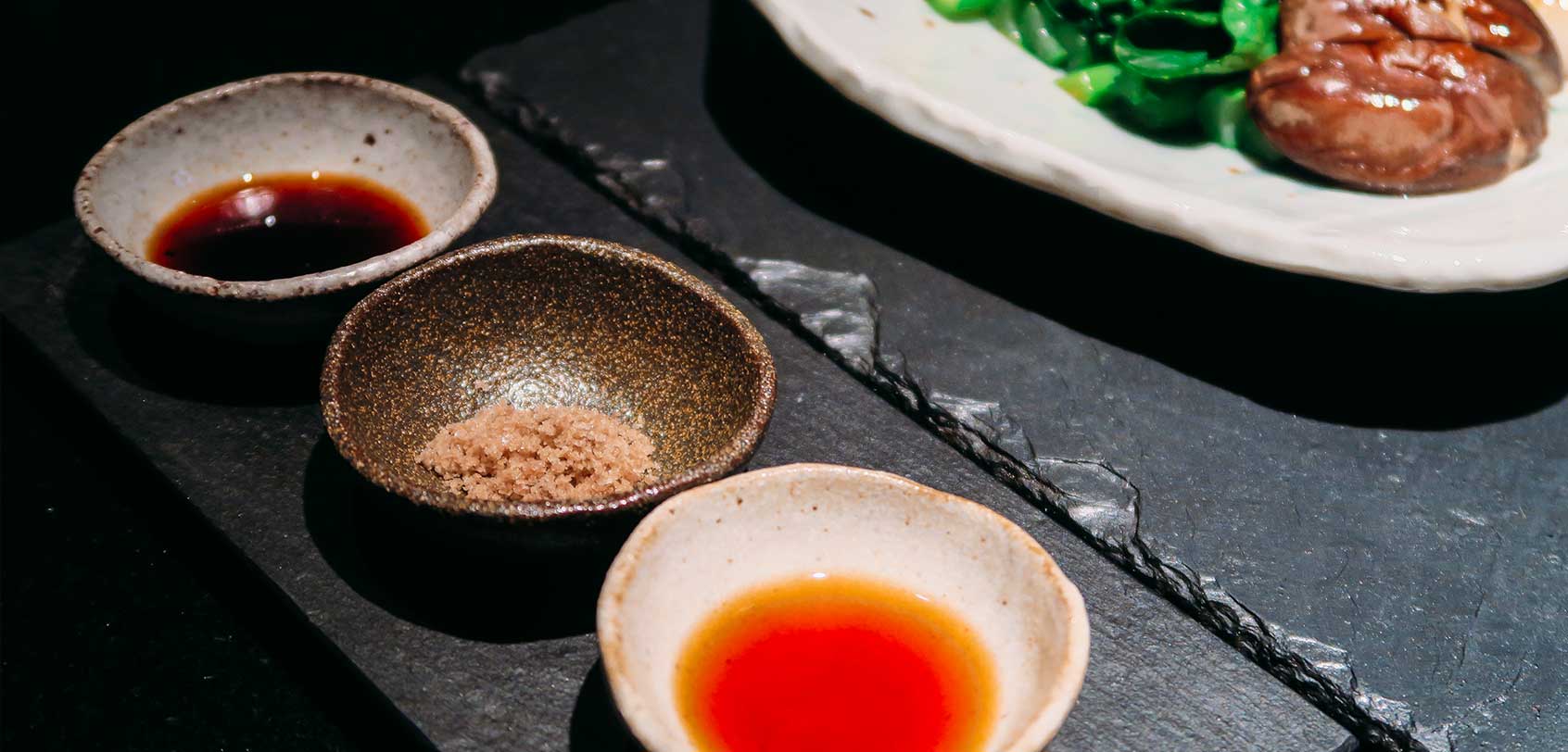 I asked the chef to cook my steaks medium rare (don't you ever order steaks 'well done'!), and I watched in anticipation as the slices of Hida beef and Kobe beef slowly turned from pink to brown on the outside, while still remaining its redness in the middle.
When he started to cut them into cubes, I had to hold my breath as I saw how effortless it was for him to slice it all… it really looked sooooo soft and tasty!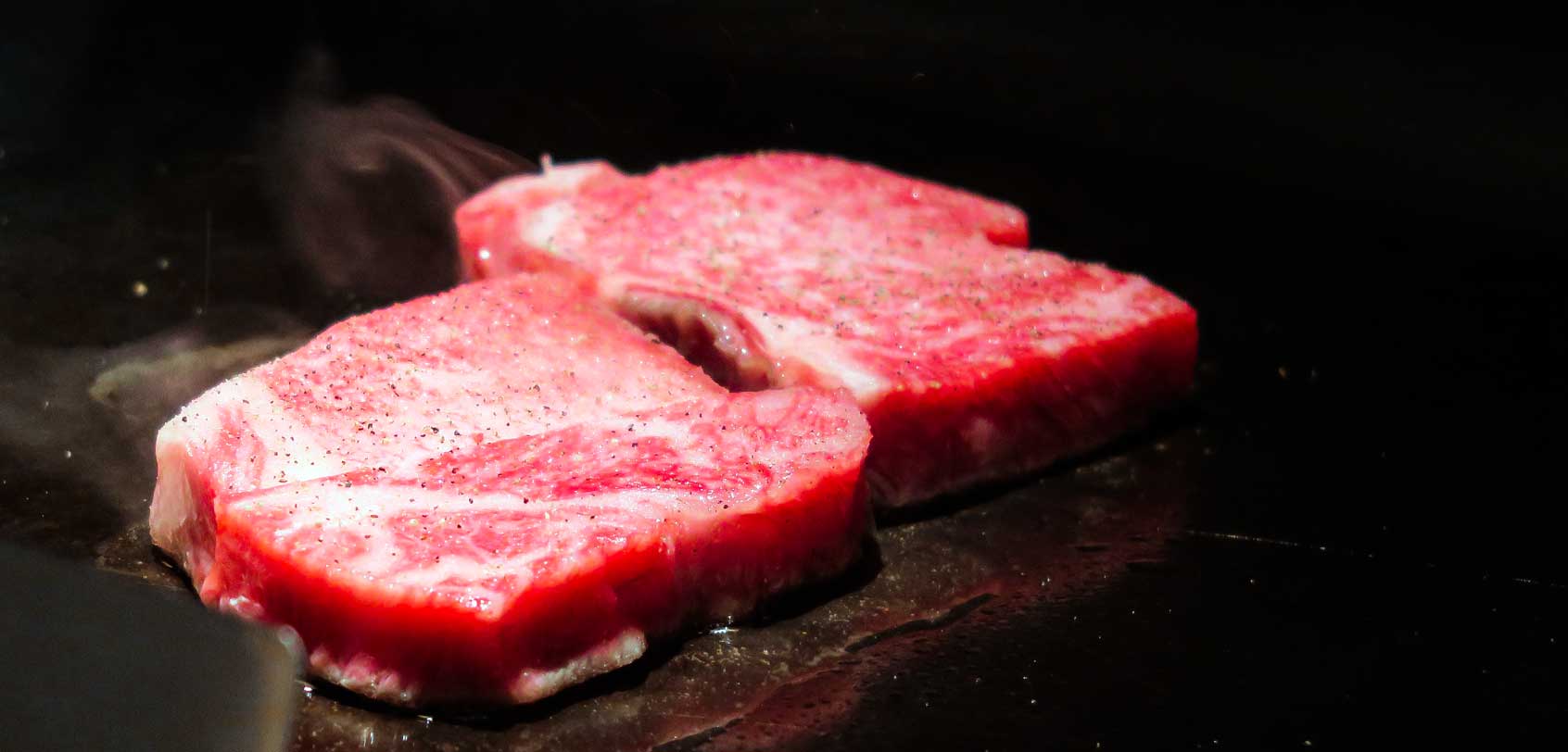 He proceeded to serve this on a plate that had crispy slices of garlic, pepper, and wasabi. I was told that I can eat the beef slices as is, but he also suggested that I try eating a cube with a slice of garlic on top or with a small dash of pepper.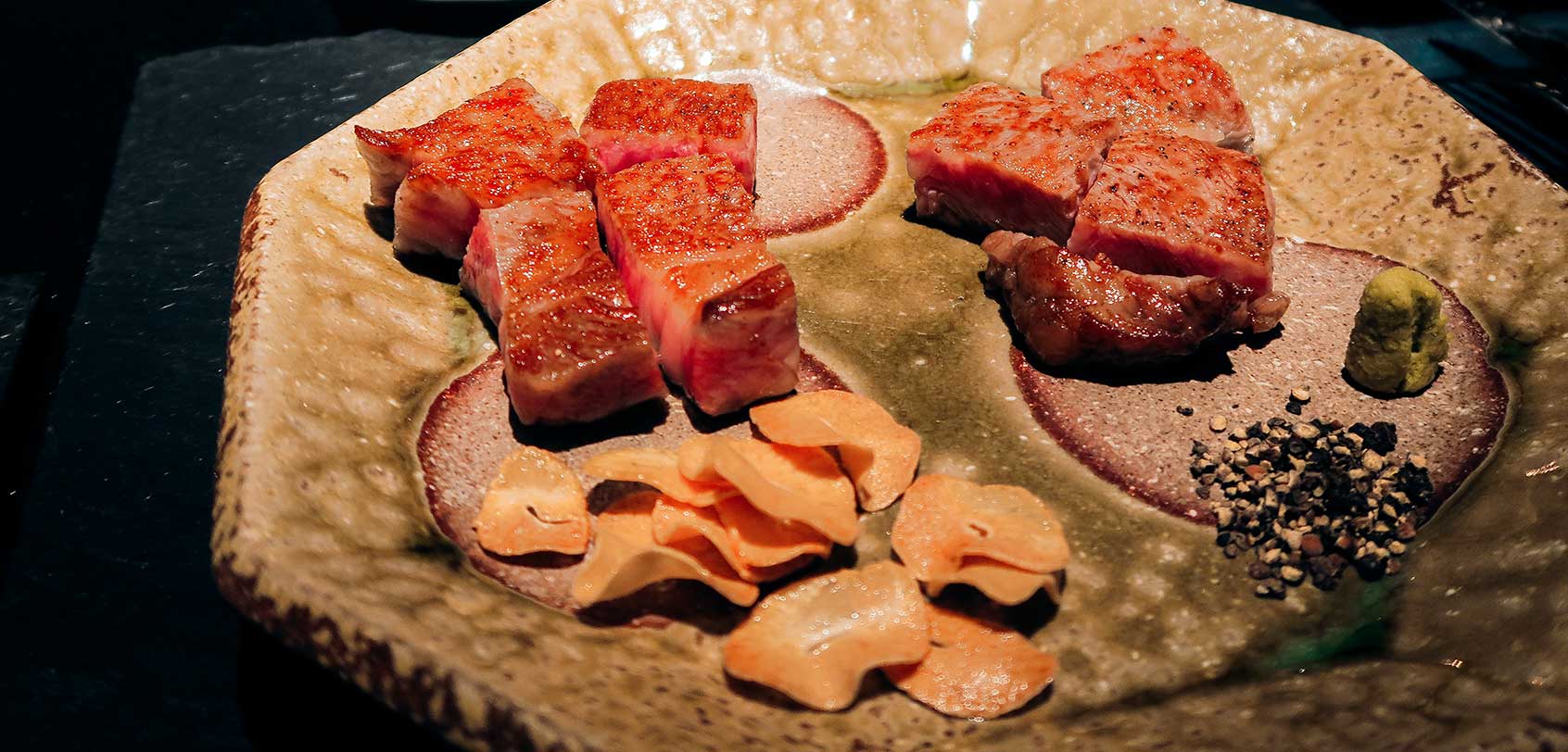 Of course, I took a bite first with no add-ons on it. I had a chunk of Hida beef followed by the Kobe one… and they. Were. Both. DIVINE!!!
It's difficult to put into words how amazing it all was, but there's one statement which I'm sure of is very close to describing the experience: "they literally melted inside my mouth, leaving a taste that was ridiculously rich and buttery."
There wasn't any need for me to chew so much, and every bite that I took made me want to cry — I'm not kidding, I really wanted to cry at how good it was! — because the Hida and Kobe beef were absolutely the BEST kinds that I have ever tasted. (With Hida beef having a taste that's 'fattier' than Kobe.)
In fact, every kind of steak that I have tasted before (U.S. ribeyes, T-bones, tenderloins, etc.), no matter how highly-graded they were, they simply have all suddenly paled in comparison!
Yet of course, I wholly recognize the fact that taste is subjective. It's even hard to say that Hida and Kobe beef topples everything else; but… I bet that once you get a taste of these, you'll find that they might just very well be on top.
After my first few bites, I paired it off with some garlic and pepper and the overall flavor was amplified even more! (NOTE: I hate wasabi; so I didn't even try that, but I bet it would have tasted good too especially if you're into its taste).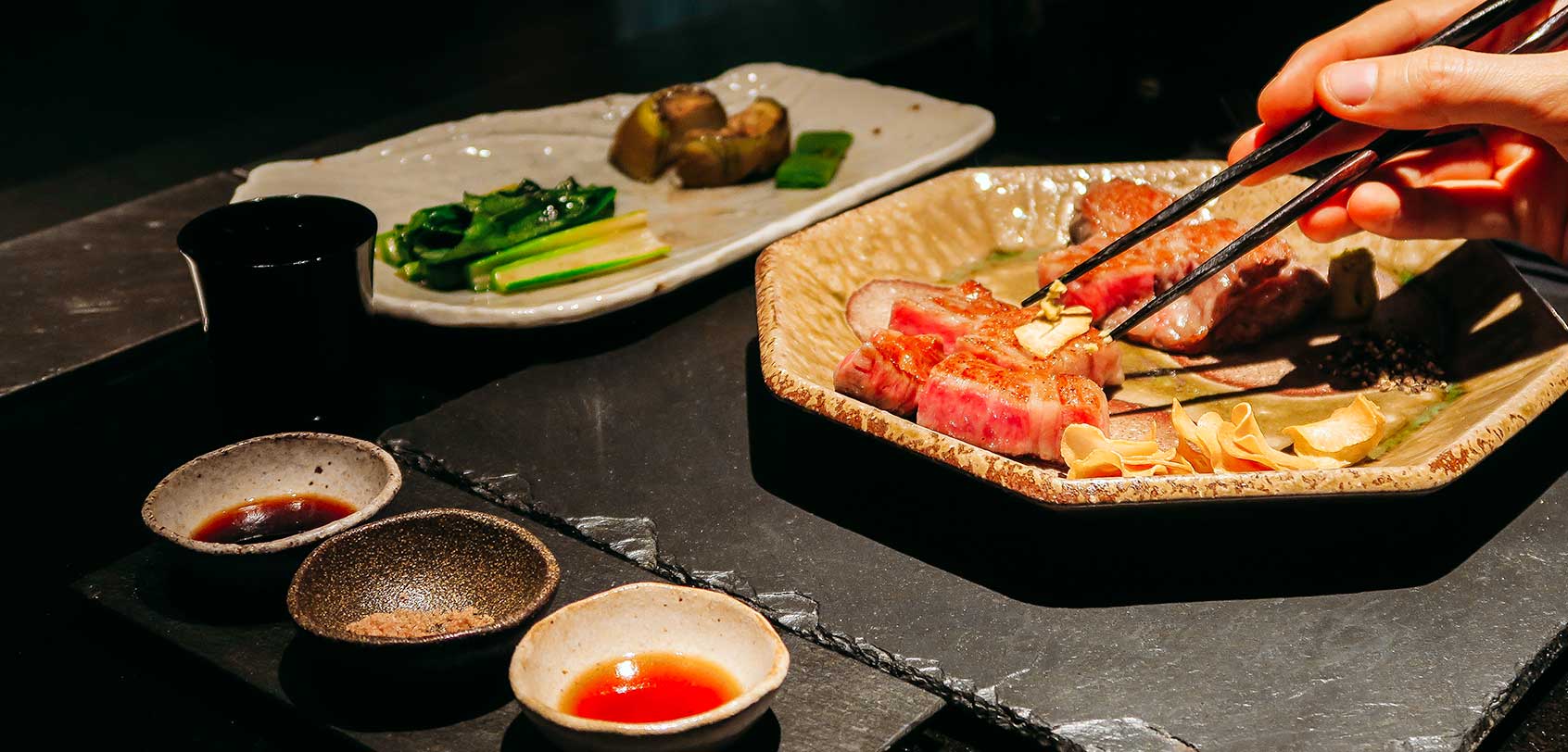 By the way, before this teppanyaki affair, I was told by a dear friend of mine that these kinds of wagyu beef are decadent treats that are best taken in small quantities, which is basically why they are customarily served in small portions.
Knowing that fact beforehand, I tried my best to chew slowly as I savored each and every bite.
(…If I may point out, while I'm writing this article, a wave of nostalgia is overwhelming me and I'm now badly craving for it!)
TRIVIA: Hida and Kobe beef both contain high levels of unsaturated fatty acids that melt at much lower temperatures than saturated fat. This is the reason why they dissolved on my tongue so fast!
But that didn't end there. Before I finished up my slices, the chef quickly cooked some garlic rice and served it to me with miso soup and pickles.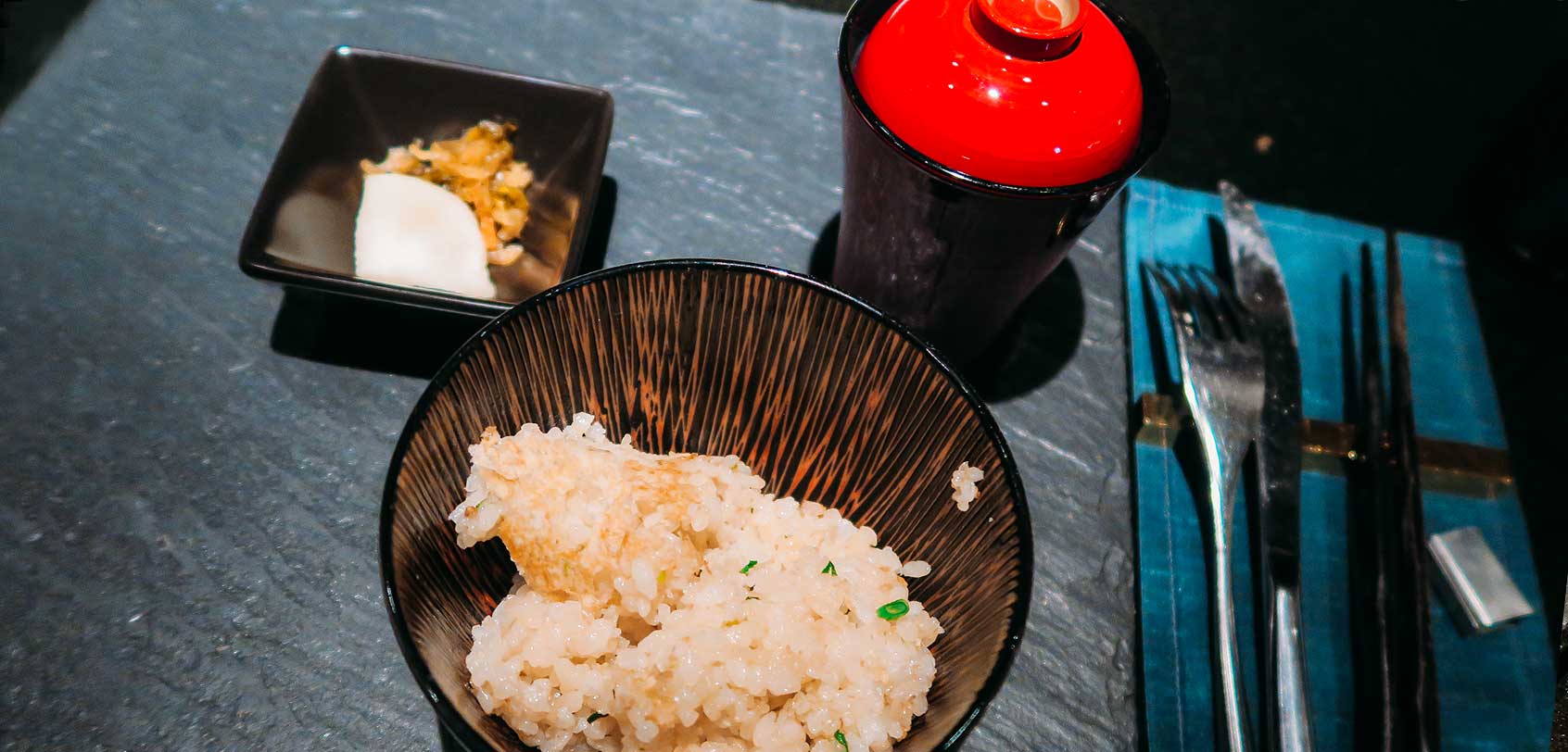 Whilst I was basking in the afterglow, I was given a dessert plate which had apple pie paired with azuki (red bean) ice cream… At this point, I was a bit afraid of eating it because I still wanted to keep the lingering beef taste in my mouth.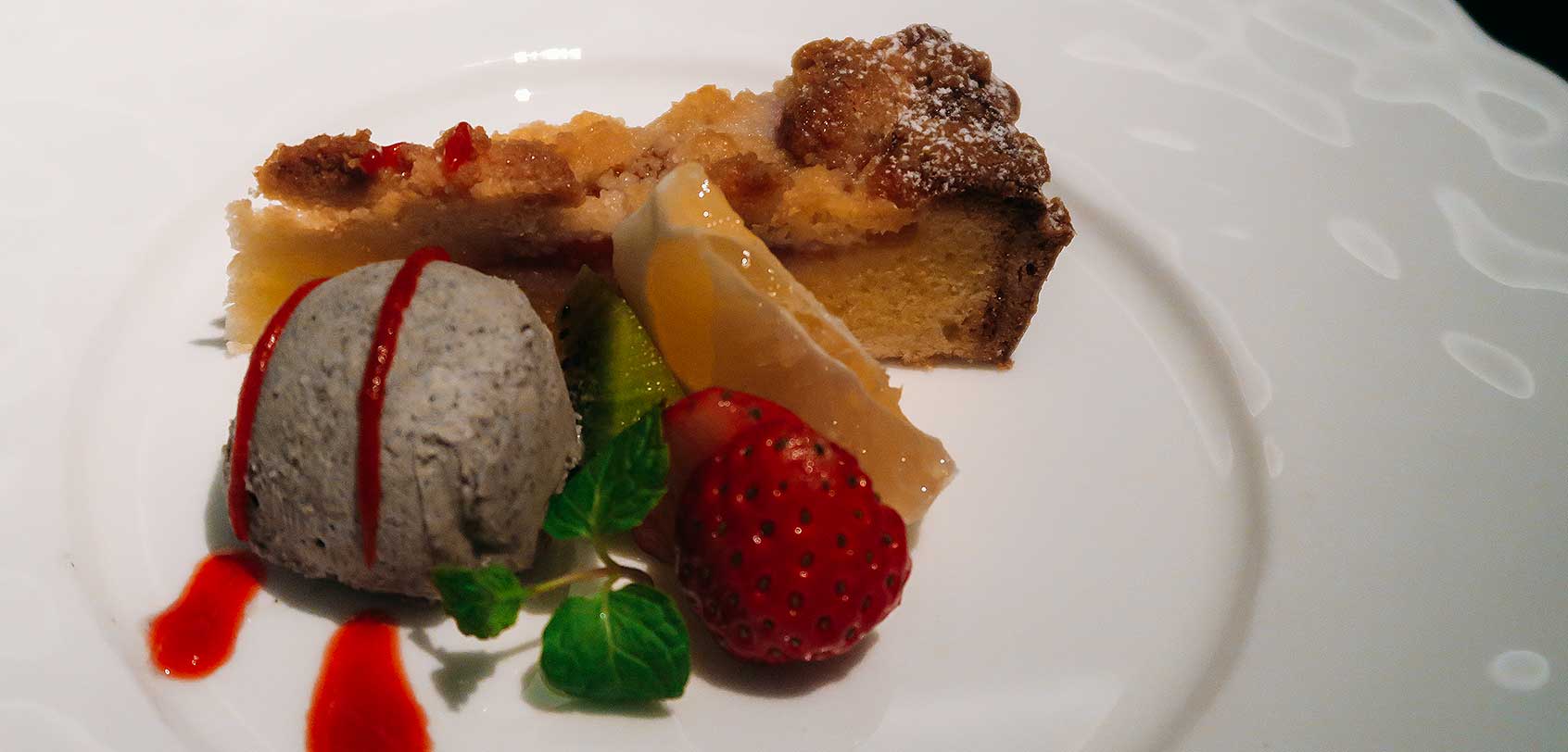 But then I gave in and I found it as a fitting 'end' to my whole teppanyaki meal; plus, it didn't even take away the whole aftertaste!
Meanwhile, you can also watch my video (vlog) below that showcases the whole of the experience in motion!